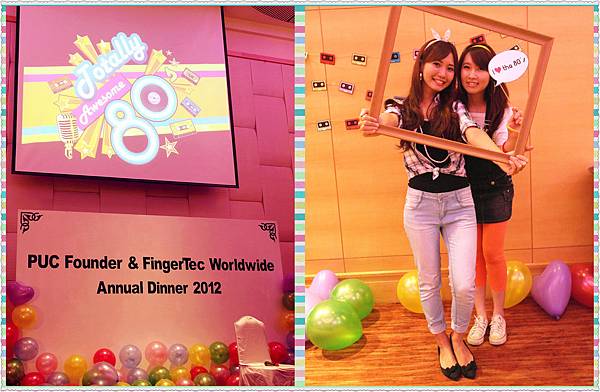 Wow! It's the end of 2012!
The dragon year is going to end ~~
Hope 2013 will be a better and greater year for all of us! Agree? =D

It is the time again for the company Annual Dinner!
The venue is located at The Prince Hotel & Residence KL.
I have been working in this company for 19 months, equals to 1 year and 7 months since graduated.
This is my second time joining the company annual dinner.
Check out my last year company annual dinner here - Annual Dinner @Sepang Gold Coast 2011.
The boss and the staffs here are lovely~ =)
19 months is not long but I have learned many things.
Programming skills, independent, cooperation with colleagues, communication skills and so on~
There are still so much things to learn!
Gambateh for myself!

The theme for this year is TOTALLY AWESOME 80'S!!
I've been worrying how should I wear that night but I don't want to spend money to buy new clothes cause the theme is 80's style~ I think it would me hard for me to wear it next time.
So I find it in the internet and saw DENIM is one of the style, but they match jeans jacket and pant together, I don't have jeans jacket! >.< In 80's they also match whatever color they want in their outfit! Especially legging! Colorful legging! I got purple legging, but I don't have the match for the purple legging, so I just wear a jeans with a checkered shirt and tie the bottom of the shirt into a knot.
For accessories, I use a scarf to create my ribbon headband, BIG round earring as this is the trend in 80's, and a pearl necklace bought N years ago and never wear it before! Haha! Now I got the chance to wear it!
In 80's they curl their hair from top to bottom! More to Rock style...I got no time so just curl the bottom and my curling tong isn't small enough to create the rock style!
so... TA DANG!!
My look of the day~ (Forgot to wear my shoe! XD)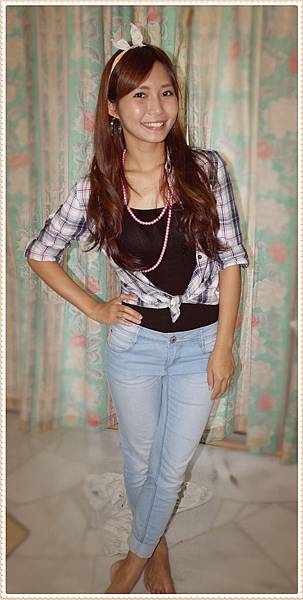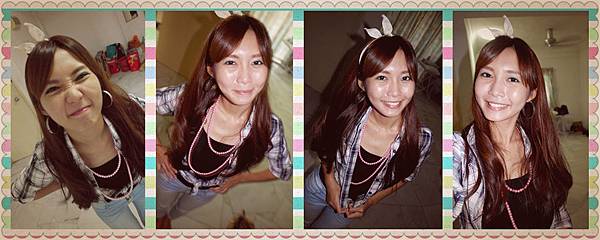 Thanks to photographer Mr. KY!!
So cute they have prepared a photo booth for photo taking session! Lovely!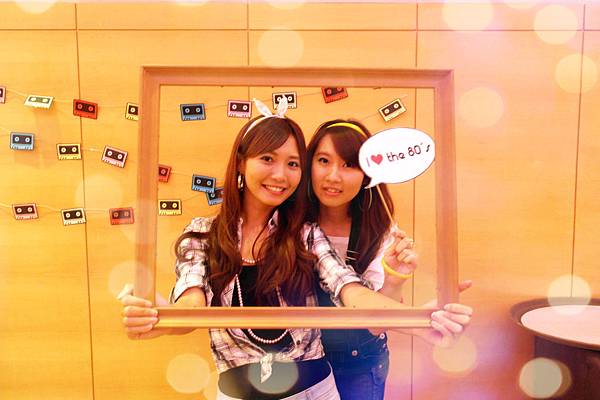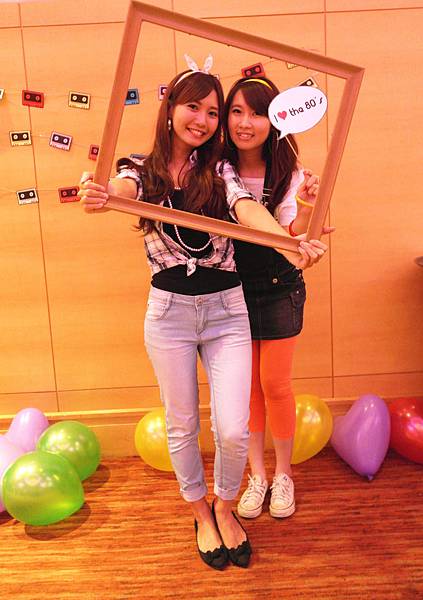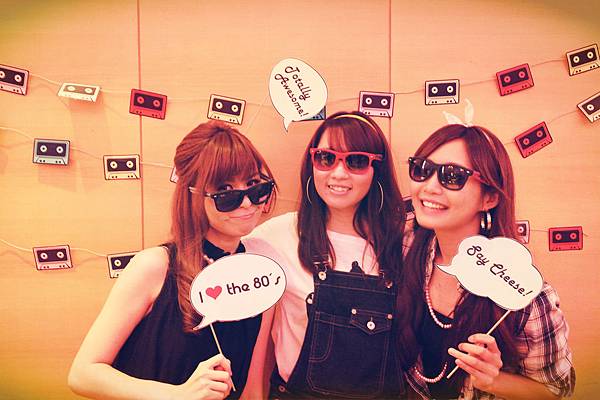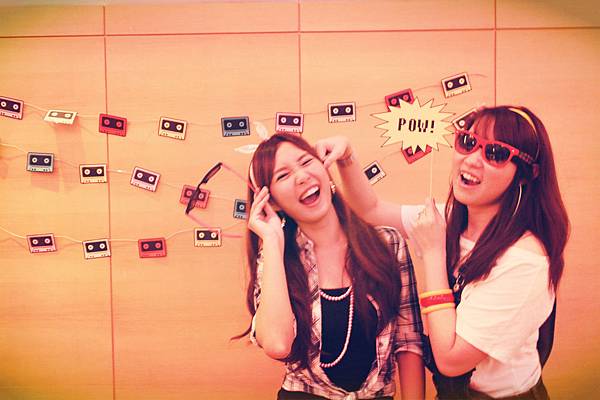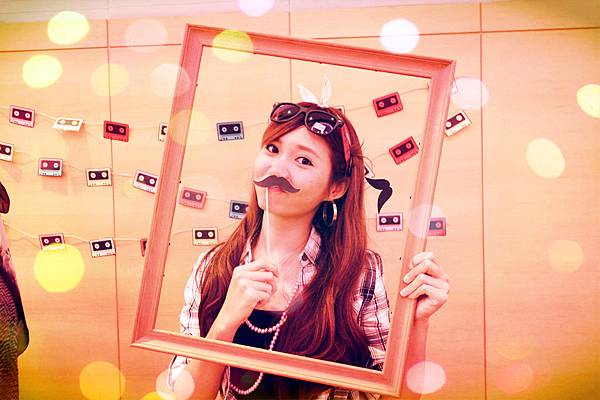 The december babies BIRTHDAY CELEBRATION!! Yeah! Me Me inside! XD

But that night I am too full to eat the birthday cake!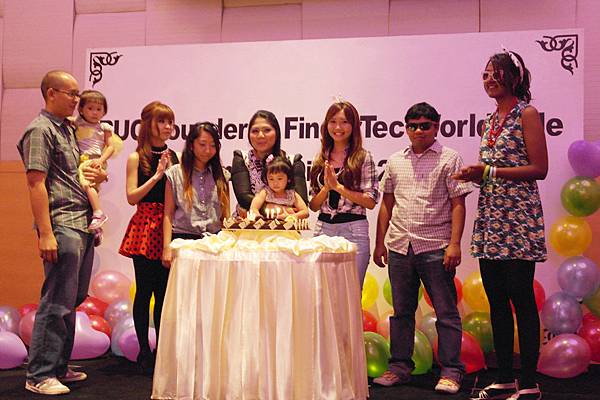 A gift on that night - The biscuits that I used to eat when I was a kid cause parent put this in front of the praying table...and a 'Rayband' sunglass!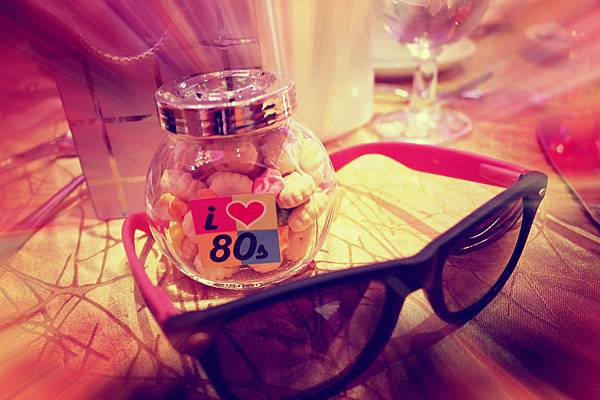 There was a game to let us guess who is the person in the picture! That was so hard! Cause everyone seem to be changed so much! Especially those who gives childhood picture!
Spotted me in the picture? A little girl with a big doll!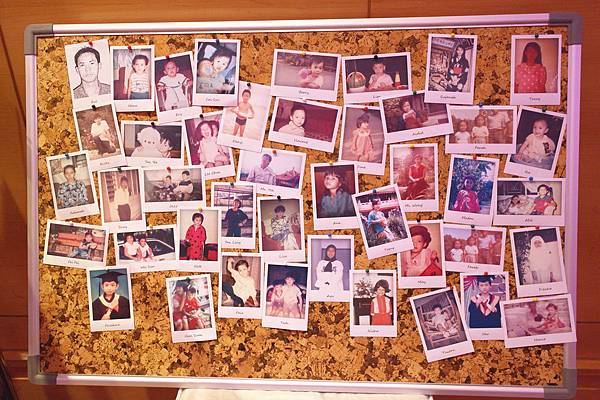 Oh! The new comers are compulsory to perform!!
Here it is! One of the performance from the newly joined colleagues Lim & Caiszu singing Pretty Boy by M2M.
That's all for the night!
A totally AWESOME night!

Enjoy it very much!
Good night everyone!
-
-
-