Princess Diaries
This was one of my favourite movie!
It was published on year 2001, 11 years ago!! @_@
I watch this again on the pass week
and I'm still like this movie so much!
I like princess story movies~
Mia Thermopolis is the average teenager - sweet, a little geeky and pretty much invisible to everyone with the exception of her mother, best friend Lilly and Lilly's older brother Michael. Making it through high school without throwing up is a challenge in itself for Mia, so it doesn't come as welcome news when her estranged grandmother shows up out of the blue and calmly informs her that she is in fact the heir to the throne of a European country called Genovia. Suddenly Mia's life is thrown into complete overload. She's being taught about scarves, waves and pears in order to become a perfect princess, she gets a makeover and a tough looking yet sweet bodyguard/limo driver called Joe. Things get out of hand when the media gets a hold of the story and suddenly Mia is thrust into the spotlight in both the newspapers and in school. On top of all that Mia has a choice to make. She must decide by Genovia's Independence Day Ball whether she longs to relinquish her claim on the throne or to become the princess and heir to the throne and father and grandmother want her to be.
How would you act when you know that your true identity was a Princess!?
OMG! That will be my expression! XD
Happy and sad at the same time,
Happy cause I'm a princess, everyday will be dress nicely and have a princess room! (my dream~
)
Sad cause you gonna lose your freedom, you will be guarded wherever you go. And politics issues too!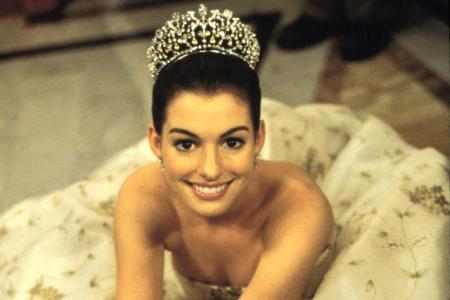 I like Anne Hathaway! Pretty lady~
Anyone like this movie too?
How if you are a princess?