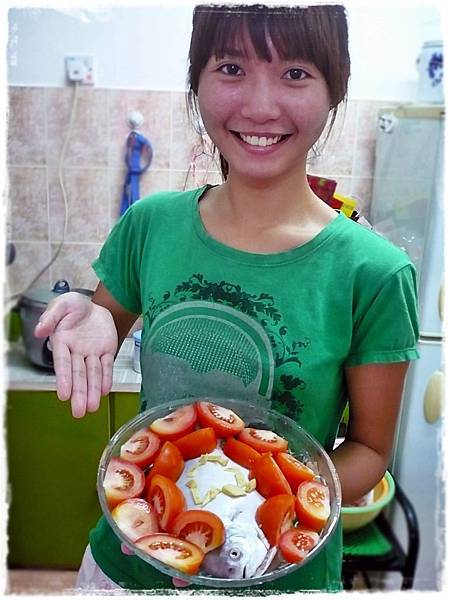 Harlo Everybody!!
It's been a long time since my last cooking post~~
This time i'll be the helper of the Chefs (Wen Wen & Papa).
Here i want to introduce our last week Monday Dinner!!!
It's Phang's Restaurant self cooking dishes :
Steam White Pomfret Fish (蒸白鲳鱼)
-1 white pomfret fish, 2 tomatoes, little gingers
Fried Bok Choy (炒小白菜)
-1 bouquet of Bok Choy
- Garlic
Amaranth Soup (苋菜汤)
- Amaranth
Amaranth Soup, my 2nd favourite soup!!
First is Yu Hiong 汤~
I don't know what is the exact name of this soup,
my mom just told me it cantonese name is Yu Hiong.
Below is the fish we are going to steam it!!
Nyek Nyek Nyek~~
Very hungry while waiting the fish to be ready on the dinner table.
Notice the way of tomatoes and gingers arranged?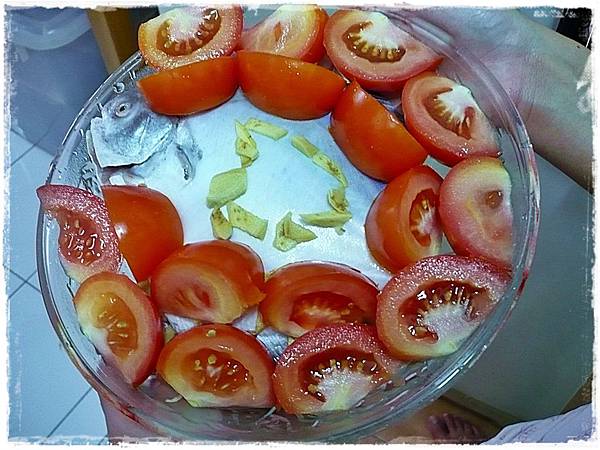 The Amaranth Soup (苋菜汤) ~
We like to drink soup!!
All dishes are ready!!!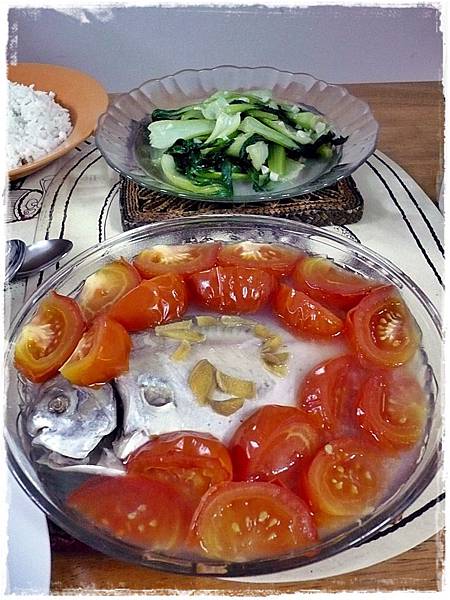 Yup, that's all for the dinner.
1 Fish, 1 Vegetable, 1 Soup.
These are enough for 3 of us to eat full full ~
These dishes are easy to cook~~
But we are too lazy to cook everyday~
Why lazy!?!?
Lazy loh~~
Go away U lazy worm!! XD
Hoho! Hope i get to learn cooking slowly little by little~
So i can cook for my family~
and SHOUT:
No outside food allow!!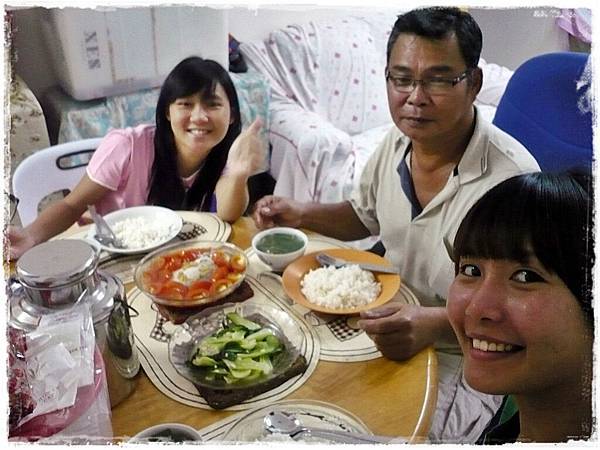 That day when i back from work
walk out from the lift
the smells of soup cooking came to me~
Smell so good!
My mind: "It is good to be home!"
I smiled!
Last time when i was still schooling,
that thinking always appeared after i smell my mom's cooking smell came from the kitchen
Love it!
Do appreaciate your mom's cooking~
It is good that someone cook for you~
Don't say any bad words, or complains
just enjoy the food!
That's all for my sharing~
Tata~
-
-
-